Raheny, Dublin, Ireland (Rath Éanna, Baile Átha Cliath, Éire)
---
Welcome to Raheny ! (Fáilte go Rath Éanna !)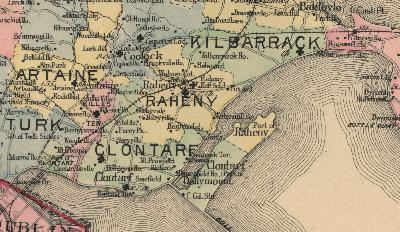 On the record since 570 AD... Read more here on where we are, our history, a guide to various features of the area, facilities, religion, education, and some local links. See more with the always popular Virtual Tour. The Gazetteer lists local businesses and groups (quick-reference A-Z format by type of business or organisation). Suggestions and information are welcome at contact@raheny.org.
Also of interest might be the Raheny Business Association site and Dublin City Development Board and Community Directory site.
Why not add the site to your Favourites (or "Bookmarks"), either at this page or the Virtual Tour. And if this page is within a "frame" or appears to be inside another website's material, just click here.
---
Raheny is an extensive coastal suburb of the city of Dublin in Ireland, centred around an old village, four to five miles from the city centre on a north easterly main road, which travels on for some miles to the Hill of Howth, ending at the village of Howth, one of Ireland's main fishing ports. The bulk of Raheny lies some way above sea-level, sloping down to the sea towards Bull Island with its fine beach of over 4.5 km (and the Raheny part of St. Anne's Park is near sea level). To see more, please visit the Virtual Tour. For a time we offered access to a detailed Ordnance Survey map on-site, and other tools, but for now we offer links to Google, Open Street Map and you can also search, with great historical data available, at Ordnance Survey Ireland. (more)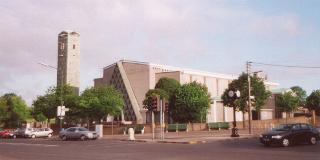 Raheny (previously spelt as Rathenny, Ratheny etc.), has been the name of this largish district - based around the old civil parish comprising multiple townlands - for many centuries (it was noted in 570 A.D. as Rathena). The name comes from the Irish: Rath Eanna, meaning "the Fort of Eanna" (or Ráth Eanaigh). This referred to an old fort in the middle of the village (near the current village centre, and now lying under both the ruined 17th century and the 19th century St. Assam's Churches, Main Street and the Howth Road, the Credit Union etc.), which touched the stream known as Skillings Glas (now known as the Santry River - see below). Traces have been found even in recent decades. (more)
Key features of this settled area include Dublin's second-largest park, St. Anne's Park, and the internationally-recognised (North) Bull Island, a National Nature Reserve and UNESCO Biosphere site, which lies off the coast, features a fine beach of over 4.5 km and is shared between Raheny and Clontarf. A number of the little rivers of Dublin flow through the area. (more)
Raheny has a large library and a Garda station, a Parish Hall in the Church of Ireland grounds, the CARA community hall in St. Anne's and the Grange Woodbine Club/ Community Centre. The district also has a full GAA clubhouse, a soccer clubhouse for Raheny United, facilities for major athletics club Raheny Shamrocks, St. Anne's golf club and courses for par 3 golf and pitch & putt. Raheny has a good number of shopping and service facilities, with a wide range of retailers, financial institutions, service stations and a main dealership, trade workers and professionals. It is served by several bus routes and the city's coastal electric railway, the core of the DART system, and has a central taxi rank. (more)
Fittingly for an early Christian site, Raheny has a number of churches. Raheny Parish is the biggest element of the Catholic structure in the district, though several other parishes are also present. In the Church of Ireland, Raheny is in Union with Coolock. (more)
The area is also well-endowed educationally, with several primary and secondary schools. (more)
Within Raheny, much of two of the townlands form the area of Edenmore, which developed its own village centre during the 20th century.
Neighbouring districts include Clontarf, a large district which once held an incorporated urban district, Killester, a small but ancient area whose church holds a relic of St. Brigid, Artane (previously Artaine or Tartaine), Coolock (more than half of north suburban Dublin lies in the Barony named for this district), Kilbarrack, and Donaghmede, formed out of parts of Baldoyle, and a little of Coolock, often addressed in the past as "Raheny", and named after one of the local "big houses". Further afield lie districts such as Bayside, formed from coastal eastern Kilbarrack, and Sutton, on the isthmus and city-facing side of the Howth peninsula, and of course mythical and historic Howth itself, as well as Baldoyle, Marino, Fairview and Beaumont. The nearest major industrial centres are in Coolock and Baldoyle.
To the east, the next stop is Wales...
For much of the year, Raheny has its own long-running journal, Raheny News (the Green Paper), supported by the Catholic parish, which has also published a year-round weekly Church newsletter since 1997. The Church of Ireland Union of Raheny and Coolock issues a monthly bulletin and several other groups have newsletters. The area is served by two freesheets, the Northside People and Citywide News.
Raheny has a number of residents' groups, who have also worked together in the Federation of Raheny Residents (FoRR, not operational for some time). There is an active local business grouping, the Raheny Business Association (RBA). Other groups include a wide range of charitable, youth, social, leisure and sporting organisations.
The local authority is Dublin City Council, with Raheny forming part of the City (County Borough) of Dublin. The boundary of the administrative county of Fingal, one of the three divisions of County Dublin, lies nearby, where Raheny meets Kilbarrack. Dublin forms part of the province of Leinster, one of the five ancient provinces of Ireland (four remaining today).
---
---
| Home | Where are we? | History | Views | Features | Facilities, Shops etc. | Religion | Education | Gazetteer | Links | Mail |
---

Why is there no raheny.ie site, an obvious companion name? Irish registry rules are strict and official placenames are only available to the relevant local government authorities - the City Council holds raheny.ie and may someday develop local sites. Aside from country codes, such as .ie, many would use .com, .org or even .net for local / community sites. Unfortunately, all too often, these are taken and in use only as e-mail domains or for sale to local groups at high costs. There are firms who actively buy placenames for future profit. Good examples of this are all too easily found. This domain is held for local use only and is not for sale.
| | | | | | |
| --- | --- | --- | --- | --- | --- |
| © Copyright 1999 et seq. | Version initialised : June 1999 | Last updated : December 2017 | Visits subject to the terms & conditions. | | Skarl |