Raheny, Dublin, Ireland (Rath Éanna, Baile Átha Cliath, Éire)
---
Features of Raheny
---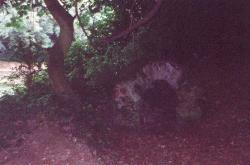 Key features include
Dublin's second largest park, St. Anne's Park (parts of which lie in Clontarf), assembled by the Guinness family of brewing fame,
the internationally recognised (North) Bull Island, whose fine 4.5 km beach is also known as Dollymount Strand. The island is a National Nature Reserve and UNESCO noted site, which lies off the coasts of and is shared between Raheny and Clontarf. It is quite recent, having formed following works, such as the North Bull Wall, in Dublin Bay from the 18th century onwards. The water off the coast was called Raheny Lake and Crab Water and is sometimes referred to today as the Blue Lagoon.
the Holy Wells: the site of the Holy Well of St. Anne, now dry, can be seen in St. Anne's Park (see image to right). The Holy Well of St. Assam, patron saint of the area, is now concealed but lay within church grounds.
the famous Crescent of cottages in the heart of Raheny, built by Mr. Samuel Dick for servants and left in Trust for the benefit of the local school (seven of the eight houses are still held by a successor Trust).
The Rivers of Raheny
Dublin City and surrounds have more than forty rivers, most now concealed. About a dozen reach the sea within the city boundaries (the others mostly run into one of the larger rivers, notably the Liffey itself, the Tolka or the Dodder) and several feature in Raheny: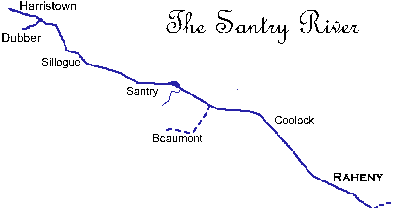 Santry River, once known as Skillings Glas, the largest local river and one of the bigger "little rivers" of Dublin, flowing in the open for most of its course from Harristown and Dubber in north County Dublin (see the river's full course to the left). A probable factor in the original settlement of the area, the Santry runs through the centre of the village, with pleasant tree-lined banks.
Naniken River, at the west side of the district, where it traditionally formed one border of the area. The Naniken supplies the "Old Pond" in St. Anne's Park and runs into the Blue Lagoon to the west of the Causeway.
Fox Stream, draining from the area of small limestone hills and caves above the village through the Fox Lands and the former site of Raheny-by-the-Sea to the sea beyond Fox's Lane. This stream once marked the bounds of Dublin City to the north and was visited as part of the ceremony of Riding the Bounds.
Blackbanks Stream, also draining from the area of limestone hills and caves above the village and reaching the sea towards the eastern end of Raheny district, in the area known as Blackbanks from the colour of the clay (probably deposited by a departing glacier).
The area of caves mentioned was once the site of successful quarries and also of an interesting illustration...
---
| Home | Where are we? | History | Views | Features | Facilities, Shops etc. | Religion | Education | Gazetteer | Links | Mail |
---
| | |
| --- | --- |
| © Copyright 1999 et seq. | Last updated : October 2001 |